deutsche Version
---
That's what the press says: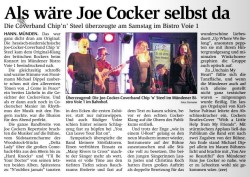 ---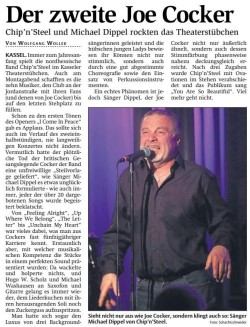 click for the complete pdf (sorry, only in german language ...)
---
"If you close your eyes, it seems you can hear Joe Cocker on stage this evening at the Kassel Theaterstübchen. And when you open your eyes, the illusion continues for a moment. But not the Englishman is singing, it's Michael Dippel, frontman of "Chip n' Steel", in voice and gesture amazingly close to the original." (Nordhessenrundschau, 10.01.2014)
A tribute to the legendary rock and blues singer Joe Cocker by the german band CHIP N' STEEL. More than two hours with the biggest hits of the singer with the famous raspy voice. Music from the Woodstock era up to his last FIRE IT UP tour, classics like "With a Little Help From My Friends" - the famous scream included. CHIP N' STEEL frontman Michael Dippel is with his voice and gesture amazingly close to the original. Supported by experienced musicians and excellent soloists, framed by three young, excellent singers, the show TRIBUTE TO JOE fascinates the audience. It's the illusion as if the old masters himself stands on stage.
TRIBUTE TO JOE - this cover show is a must for all Cocker fans and always a great concert experience for lovers of good rock music.
---
Booking + Contact:
Michael Dippel-Bocks
Hospitalstraße 8
34576 Homberg (Efze)
Germany
+49 (5681) 4116
info@chipnsteel.de
---